Table to display the main page layout
fragile little mind

Table for main content
about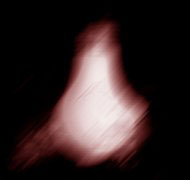 bio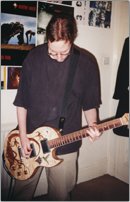 Fragile Little Mind formed in Plymouth in 1999 when Raven Coen (bass, drums) was required to present a "media artifact" for a college project.
At the time, friends Matt Goodson (guitar) and Kris King (vocals, guitar) were tentatively experimenting with various pieces of PC digital recording software to see what could be achieved, and so it was suggested that they should write, record, and produce a complete CD single.
Never ones to do things by half-measures, the band decided that the artifact should consist of not just a song or two, but a complete CD-ROM multimedia presentation, with T-shirts and other promotional material.
"Tui Viscus Mei (Your Flesh Is Mine)" was, to put it bluntly, three notes short of a Metallica lawsuit, and had lyrics that were impossible to take seriously (unlike the much better-written second track, "Vengeance Comes"). Fortunately, the experience proved to the band that they did at least have a suitable pool of talent that could be put to good use.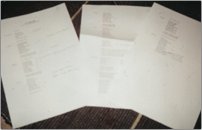 A period of heavy writing followed which resulted in a number of recordings that all had one thing in common; they were all missing vocals (Kris' complete lack of confidence behind the microphone proved something of a hinderance for a singer).
And that, sadly, was where things stayed ... for nearly five years ...
During those "lost" years the band would occasionally plug-in to record bits and pieces here and there, although things got a huge boost when everyone started to get the hang of a newly acquired package called "Fruity Loops". The ability to quickly create rich and varied backing tracks proved to be a great leap forward, leading eventually to a cover of Depeche Mode's "Enjoy the Silence" (although still without vocals).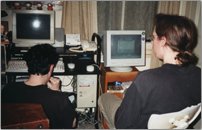 In March 2005 Kris finally overcame the fear of his own voice and, fuelled by caffeine, weed, and deep inspiration, wrote and recorded "Names" in just four days. Nothing about the song has been changed since, and it marked the beginning of a glorious new period for the band; finally getting shit done.
More songs quickly followed (including a finished version of "Enjoy the Silence" complete with vocals) ... by the time March 2006 rolled around the band had recorded an entire album's worth of material (admittedly four tracks were covers).
Today the band are still writing and recording for no other reason than the sheer joy of it ... perhaps they might eventually overcome the fear of playing to people?
faq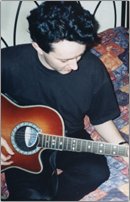 Who's in the band?
Fragile Little Mind are, and always have been: Raven Coen (bass, drums); Kris King (vocals, guitar); Matt Goodson (guitar)
Where did the name "Fragile Little Mind" come from?
It's a line uttered by Cartman in "South Park: Bigger, Longer, and Uncut". It was suggested by Raven as we're all massive fans (that and we all have serious issues that probably need to be looked at by a professional)
Who are your influences?
Anyone we love listening to; Rammstein, Queen, Dir En Grey, NIN, Marilyn Manson, The Cure, Radiohead, The Wildhearts, 3 Colours Red, Metallica, Live, Depeche Mode, Gary Numan.
Who do you sound like?
It varies from song to song, but pick one of the bands above - we're something a bit, but not entirely like, them. Kind of. It's best if you have a listen and tell us who YOU think we sound like.
What instruments/equipment do you use?
Guitars by Washburn, Yamaha, Ibanez, and Fender; drum kit by Yamaha; effects by Line 6 POD and Zoom Player; amplification by Fender, Marshall, and Park.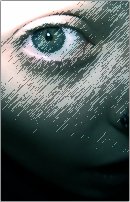 What do you use to record?
Backing tracks are created using Fruity Loops (often this includes the drums too), then dragged into Cakewalk Pro Audio where we then add everything else. It's mixed there and dumped out to Adobe Audition where it's mastered (we also use it for some additional effects and filtering).
What did the media "artifact" consist of, and can I get a copy?
The CD featured two songs, "Tui Viscus Mei (Your Flesh Is Mine)" and "Vengeance Comes", and a Director-written multimedia presentation (incorporating an image gallery, lyrics, guitar and bass tab, chords etc.) We can't release the tracks in the form they're in now (either because the quality is not good, or because Metallica would sue us for "adapting" one of their riffs). We may one day return to these songs and re-work them, but don't hold your breath!
What are the covers you've done, and will you release them?
We're currently looking at the legality of putting out the covers we've done - until we know where we stand, we can't really do anything with them. The covers in question are: "Enjoy the Silence" (Depeche Mode), "Another Brick In The Wall" (Pink Floyd), "21st Century Digital Boy" (Bad Religion), and "A Nation of Haircuts" (Roger Taylor).
Who are you people?
Raves is 42 and an artist and author; Kris is 49 and a web developer; Matt is 45 and a librarian. We are geeks, we love movies and music, comics, toys, and games ... we make noise, we wear black, our neighbours like us, and we're really good to our mums. We hate fakes and liars (which pretty much covers the entire entertainment industry, as well as the political world and mainstream media). We believe in the freedom to say, think, feel, and enjoy whatever you want so long as you harm only yourself. We believe the world needs to grow up, and fast.